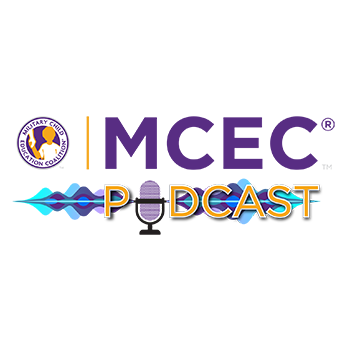 In this special episode you are going to get a behind the scenes look at the MCEC NTS 2021 Embracing the Future for #MilKids virtual event. You will find out details about the platform, Attendify, and tips and tricks for attendees to utilize throughout the event. Listeners will also hear about our marketplace, expo, awards and much much more.
You can still register for the Virtual 2021 National Training Seminar (NTS):
2021 NTS: Embracing the Future for #Milkids. Join this FREE three-day virtual event for a unique opportunity to engage with senior military, government, education, and thought leaders.
MCEC would like to thank the sponsors that are making this virtual National Training Seminar possible at no cost to our attendees! Please stop by our NTS expo and show appreciation to our very generous supporters USAA, AT&T, Boeing, College Board, BAE, Defense Credit Union Council – who also provided our Purple OUT T-shirts this year, AMBA, Tutor.com, and MBA.
MCEC Store: https://store.militarychild.org/ Free gift with any store purchase, while supplies last!
The Call for the Arts: https://www.militarychild.org/programs/the-call-for-the-arts Military Kid Art will be featured in the Art Show!
Pete Taylor Partnership of Excellence Awards: https://www.militarychild.org/programs/pete-taylor-partnership-of-excellence-awards Visit the EXPO to find out more about this year's Winners.