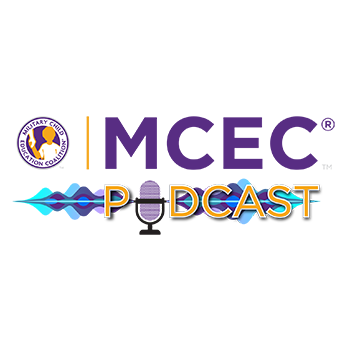 Join us we discuss military caregiver kids, learn the unique challenges they face, and the support services available to them. 
Show notes:
https://www.youtube.com/watch?v=gk1kfy8DfRI&t=1776s
https://hiddenheroes.org/news/hiddenhelperslaunch/
EDF_ExecSummary.pdf (hiddenheroes.org)
https://hiddenheroes.org/resources/hiddenhelpers/
Bio: 
Rashi Venkataraman Romanoff 
Vice President for Programs & Partnerships  
Elizabeth Dole Foundation  
Rashi Venkataraman Romanoff serves as the Vice President for Programs & Partnerships for the Elizabeth Dole Foundation, where she oversees all programs and is steering new strategic partnerships to enhance the Foundation's reach and resources. Prior to joining the Elizabeth Dole Foundation, Rashi worked at America's Health Insurance Plans (AHIP) as their Executive Director for Prevention and Population Health. In this role, she led programs, activities, and industry-wide initiatives related to prevention, wellness, and public health and launched AHIP's strategy to address the social determinants of health. 
Originally from Pittsburgh, PA, Rashi is an experienced health care professional with a demonstrated history of working in the public and private sectors. From 2010 to 2017, Rashi worked at the U.S. Department of Veterans Affairs (VA), starting as a Presidential Management Fellow and eventually serving as the Director of Operations for the VA Center for Strategic Partnerships. In this role, she was responsible for directing collaborative projects valued at more than $150 million to better serve our nation's Veterans and their families. A graduate of Carnegie Mellon University, Rashi holds a Bachelor's degree in Biology and Public Policy and a Master's Degree in Health Care Policy & Management. She is also the previous recipient of the Fulbright Scholarship (2008) and Presidential Management Fellowship (2010). 
Mathematica Researchers Bios
Hidden Helpers at the Frontlines of Caregiving
Cleo Jacobs Johnson
Cleo Jacobs Johnson, a developmental psychologist and qualitative researcher, leads research designed to shine a light on the people providing the essential work that is often invisible and overlooked, military and veteran caregiving families and family, friend, and neighbor childcare providers. In this work, Dr. Jacobs Johnson's keenly invests in partnering with various stakeholders to identify strategies and solutions for promoting equitable access to systems and supports.
Dr. Jacobs Johnson's work with the Elizabeth Dole Foundation has enhanced meaning because she is a military spouse and is deeply committed to amplifying the voices of military families. Her husband, Staff Sergeant Damien Johnson, has 20 years of service in the Army and served two tours of duty in support of Operation Iraqi Freedom. Her family has PCSed 4 times during his career, including two cross-country moves.
Dr. Jacobs Johnson holds a PhD in Human Development and Applied Psychology from the University of Pennsylvania, a Master's of Arts in Psychology from the University of Illinois, Chicago, and a Bachelor's of Science in Human Development and Family Studies from Cornell University's College of Human Ecology.
Steven Malick
Steven Malick is a researcher at Mathematica and the spouse of a veteran who served one tour of duty in Afghanistan. Mr. Malick focuses on bridging the gap between research and practice, particularly aimed at improving equitable outcomes for children, and in this context, ensuring that children in military caregiving families have full and rewarding lives. Mr. Malick specializes in working with stakeholders, educators, state officials, and staff from philanthropic organizations to understand and apply evidence in order to tackle problems of practice and make progress toward their goals. His research considers important questions about how to align complex systems to achieve desired aims.
An experienced facilitator of adult learning experiences, Mr. Malick employs human-centered design principles and continuous improvement frameworks to help stakeholders unpack the challenges they face and realize evidence-informed approaches to tackle those challenges. This work has included partnering with stakeholders to help them use and apply data and research; designing and facilitating workshops, webinars, and communities of practice; assembling expert feedback to inform clients' efforts; and distilling research on complex topics into easy-to-read briefs and blogs. Before joining Mathematica in 2015, Mr. Malick spent nearly a decade in the public education system as a middle school math teacher and as a coach of new teachers. He has a master's in public affairs and politics from Rutgers, the State University of New Jersey.